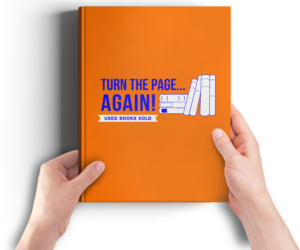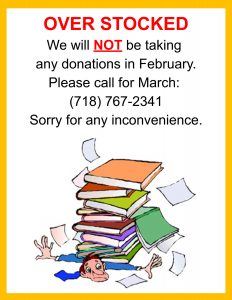 We will not be taking any donations in February. The following are a list of non-profits & charities that also take book donations:
The Salvation Army: http://newyork.salvationarmy.org/ | (212) 337-7200
The Lupus Foundation of America: https://www.lupus.org/northeast | https://www.lupuspickup.org/
NYC Book Donation Centers: https://gclibrary.commons.gc.cuny.edu/2016/06/20/reuse-re-read-book-donations-elsewhere/
Books for Cause: http://www.books4cause.com/ | (212) 991-5638
Donate Your Books!
We are a gently used bookstore. Our books come from the generous donations of our patrons, the Queens Public Library and others.
We pride ourselves on the high quality of our used books. Any books that we feel are not fit for sale are offered to our customers to take for free. We have limited storage space and we cannot guarantee that we will take every book that is presented to us. We generally accept 20 books at a time per customer daily. Exceptions can be made with management's approval.
Periodically, due to overstock, we suspend taking donations. All information will be posted.
Please contact us before donating. 
We will NOT take:
Books in poor condition
Books without covers
Books that have torn or missing pages
Water-soaked books
Extremely worn or old books
Textbooks
Encyclopedias
Original software users manuals
Magazines
We do not give cash for books. However, we are happy to send you a Thank You letter for your donation to be used as a tax deduction or give store credit. The store credit will be in the form of a voucher to use toward a new purchase. This credit is given at management's discretion.